Browse through our inventory of new RVs below, or use the search feature to find exactly what you're looking for.  We are always ready to help if you have any questions – contact us here.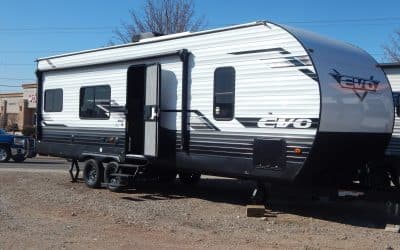 2023 EVO Toy Hauler For Sale Retail:  $47,384.90 Sale Price:  $37,000 DETAILS2023 EVO 25 Ft Toy HaulerNewWeighs 5800 Lbs.Nicely equippedVIN 1708Stock # F22-071Retail Price:  $47,384.90On Sale Now: ...
Financing
IMPORTANT:  Please call us at (505) 327-0353 for additional information before sending your application to Priority One.
Purchasing an RV is a big investment for even the most experienced RV'er. If you're buying your first RV the experience may feel overwhelming with the many loan options and extra requirements. Fortunately, the team at Farmington RV Sales offers you the experience and knowledge to make the process easier. That's what we are here for, so stop by and see us today! We also do 'phone applications' to make it easiest for you.  Use the button here to download an application.